A VoIP gateway, a.k.a. analog telephone adapter (ATA), is a networking device that converts a traditional (legacy) phone signal (analog or digital) into a (digitized) packet-based, Internet Protocol (IP) communication stream. The gateway serves as the conversion point between Time Division Multiplexed (TDM) telephone network and an IP-based network such as the Internet or private corporate LAN or WAN.
VoIP Gateways can support numerous use cases (application scenarios) to enable IP telephony implementations. A media gateway may provide several types of bi-directional conversion, including Session Initiation Protocol (SIP)-to-Time Division Multiplexing (TDM) and TDM-to-SIP. Some high-end models may even provide such session border controller (SBC) functions as transcoding, security firewall, failover, and others.

SmartNode SN4140E
The ruggedized SN4140E Industrial VoIP Gateway series is ideal for delivering Voice-over-IP telephony for outdoor phone, industrial VoIP, and tactical communications systems in outdoor or environmentally exposed environments where heating and cooling cannot be controlled.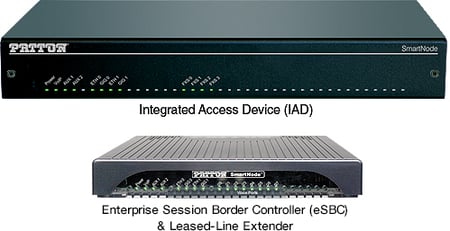 SmartNode SN5540 eSBC + Router
The SN5540 is the perfect choice for All-IP applications where legacy, non-replaceable analog equipment has to be integrated into a UCC environment.

SmartNode SN200
Connect with confidence using the SmartNode SN200 Series, legacy telephony equipment to nowadays common SIP trunk and hosted services

SmartNode SN4740
The SmartNode™ 4740 VoIP Gateway provides 16 to 128 analog FXS (FXO coming soon) interfaces to connect phones, fax or PSTN trunk lines to your All-IP based Unified Communication system such as SIP Trunks, IP PBXs, Hosted Solution, etc..