Frac Water Monitoring Scada System
MICA Controls designed a system to monitor frac water ponds that incorporates the best features of ICL products. A 50 W 12 AH Solar System mounted on a tripod interfaces with the Scadaflex II to solar power the module. With a built-in mesh radio and cellular modem, the Scadaflex II communicates with other remote modules in the ponds. There are endless possibilities for customization allowing a network of modules to connect and exchange information. The Scadaflex II master can connect to up 32 slave LPR and RIO combinations that feed data via mesh radio. The master module relays the information via the LTE network allowing control room operators and engineers to monitor data, and remotely configure the modules. The data can also be easily accessed and controlled via smart phones, including bi-directional texting. The ultrasonic level sensor is simply integrated into and powered by the LPR and RIO modules, allowing monitoring of flow and level.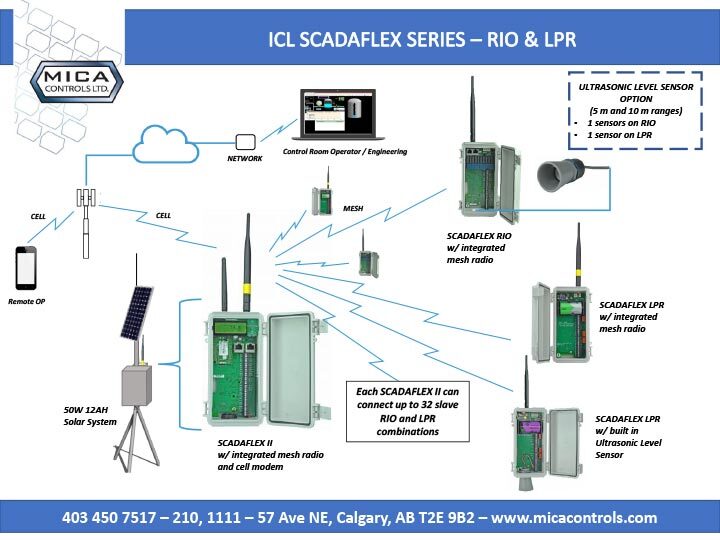 Smart Cities
MICA Controls designed a system to monitor and control key city infrastructure, and improve service to citizens and save energy. ICL Scadaflex II RIO modules are mounted on lamp posts and connected to each other via mesh radio. The Scadaflex II LPR combined with the ultrasonic sensor can be installed under manholes. These modules collect a variety of inputs such as outdoor temperatures, level, flow, air quality, local brightness, activity, rate of melt, soil moisture, transformer current, and transformer temperature. Modulus Communication modules can also be utilized to capture photos and video on demand and on event. The information is sent to a master Scadaflex II with built-in mesh radio and cell modem, which in turn relays the data to a central control room. Control room operators or the general public can also receive alarm call-outs through their cellphone.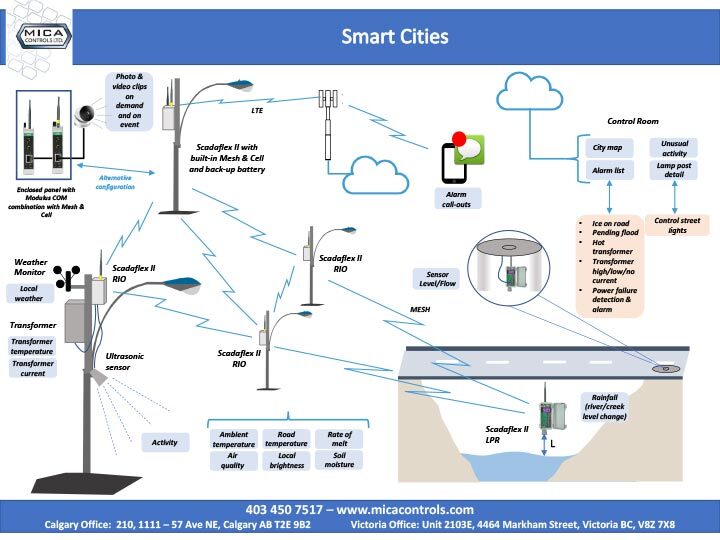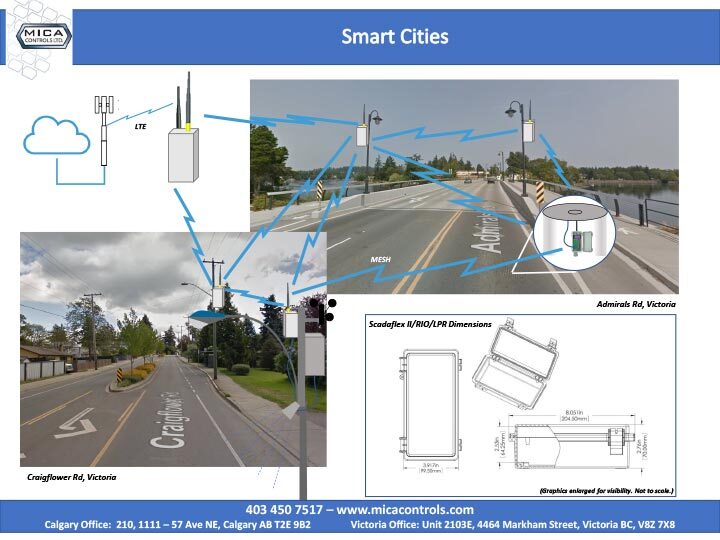 Redundant Ring Architecture using Westermo RedFox Switches
It is possible to protect communications between simplex processors located in different buildings in case of equipment failure. Redundancy in the network can be offered using a ring and setting up aggregates on the ring trunk. Two links go between the Westermo switches in each direction. Since they are aggregated they appear as one physical link. If one of the individual lines in the ring fails, the other would handle it automatically. If all the lines in the aggregate were to fail, FRNT would work as normal and reverse the traffic the other direction.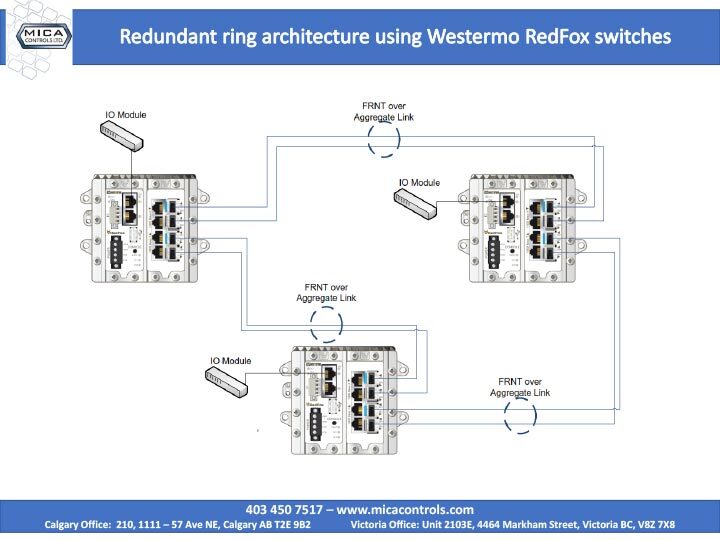 Pipeline Leak Detection and Cathodic Protection System
Modulus Communication modules and Combo modules can be used for pipeline leak detection and cathodic protection systems. The data between modules is communicated via mesh radio and they automatically route data between available connections, to a central Modulus module. There are several ways to bring the data into the plant control system: DCS via OPC, or a PLC, communicating Modbus, Ethernet IP, or any other available native protocol. Remote access is available directly to the Communication module whether its located in the plant control system area, or in the field.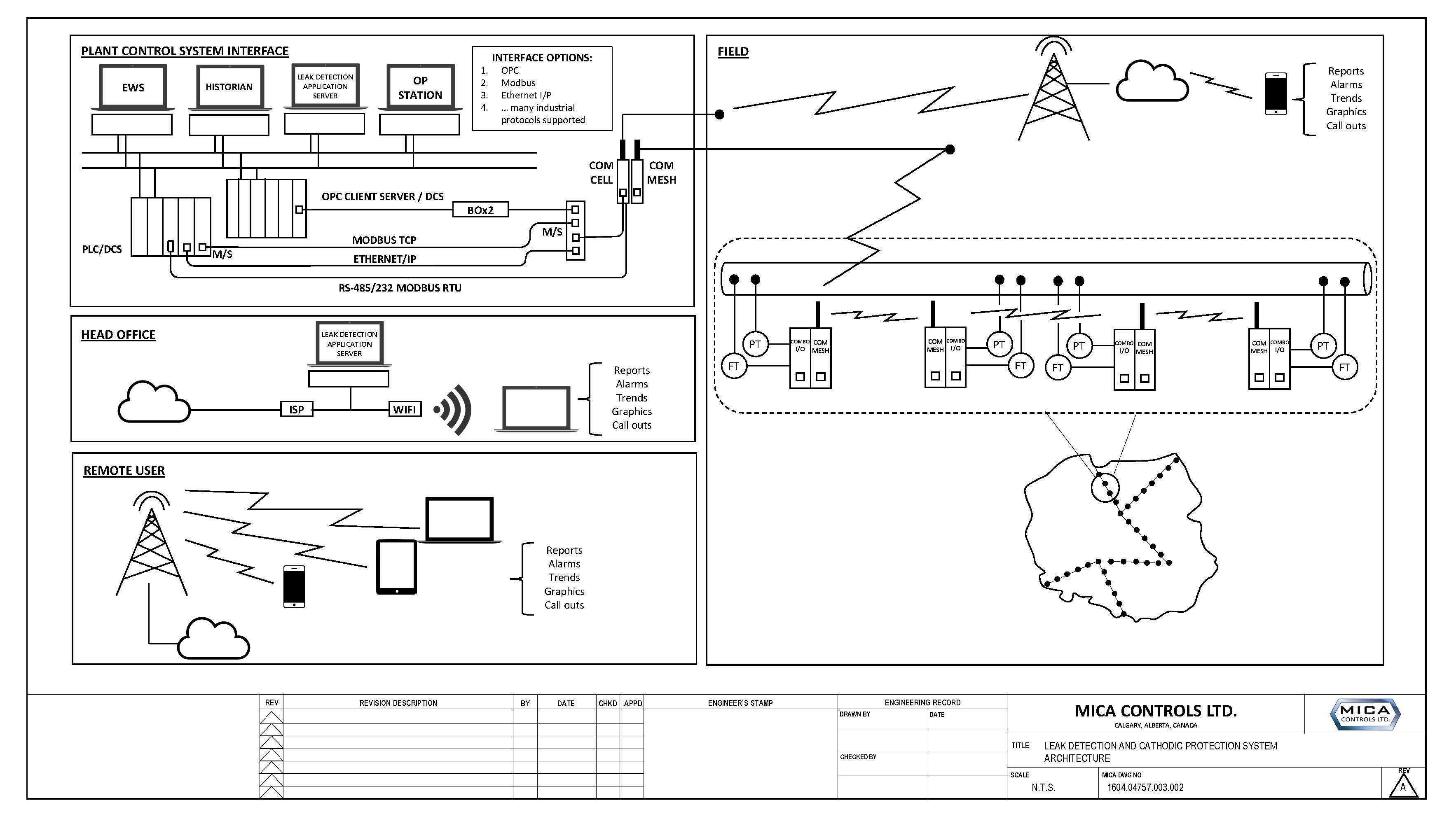 Thermal Production Downhole Monitoring
The universal I/O capability of the Modulus Combo modules can be utilized to monitor temperatures using thermocouples. The data is gathered using the Combo modules with a Communication module equipped with mesh radio at each pad and observation well.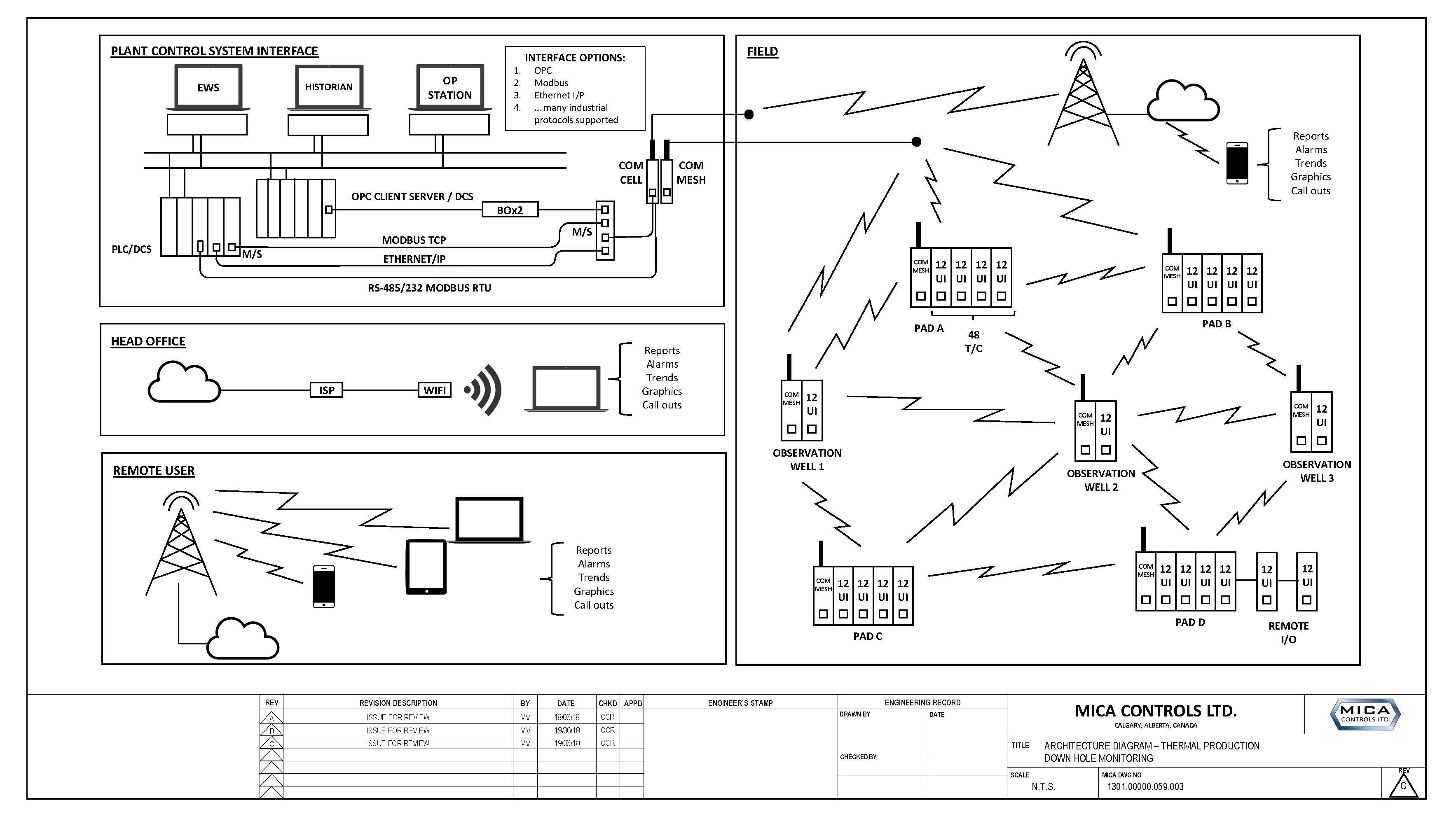 Remote Camp & Campus Monitoring System
Scadaflex II Remote I/O (RIO) and Low Power Remote I/O (LPR) modules can work together to gather critical data around camps and campuses. The mesh wireless network connecting the modules is self healing and requires no radio configuration. The remote modules feed the data to a master Scadaflex II that is equipped with mesh radio and a cellular modem, securely sending the data to the cloud for remote access, trending, and monitoring.