Combining powerful CODESYS control and cloud connectivity.
BoX2 solves the challenge of finding smart ways to access data and bridges the gap between the worlds of industrial automation and IT. It makes information from a deep industrial level easily accessible in a structured cloud-based data environment. BoX2 facilitates data exchange, and transfers data securely to the cloud for remote access and analysis. BoX2 allows you to create mobile solutions and add local control on the edge of the cloud to perform corrective measures on a machine.
This is BoX2
BoX2 is a series of protocol converters, IoT gateways and edge controllers that combine clever connectivity in different ways:
Share data between PLCs of different makes.
Create IoT solutions to store and access data in the cloud.
Present data on mobile devices via HTML5 screens and dashboards.
Integrate local CODESYS control.
It also offers smart functions such as local data base storage, alarm servers, data exchange, reporting, C# scripting, and more. BoX2 is easily configured with just a few clicks in WARP Engineering Studio. Smart functions are configured via iX software.
BoX2 base
Cost-effective protocol converter
Protocol conversion

HMI and web server

Local data base storage, alarm servers, data exchange, reporting, C# scripting

IP20

-10 °C to +50 °C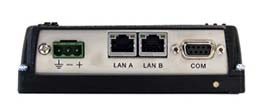 BoX2 pro
High-performance protocol converter/IIoT gateway/edge controller
Protocol conversion

Cloud connectivity

HMI and web server

Local data base storage, alarm servers, data exchange, reporting, C# scripting

IP20

BoX2 extreme
Rugged protocol converter/IIoT gateway/edge controller
Protocol conversion

Cloud connectivity

HMI and web server

Local data base storage, alarm servers, data exchange, reporting, C# scripting

IP65, UL Type 1

-30 °C to +70 °C