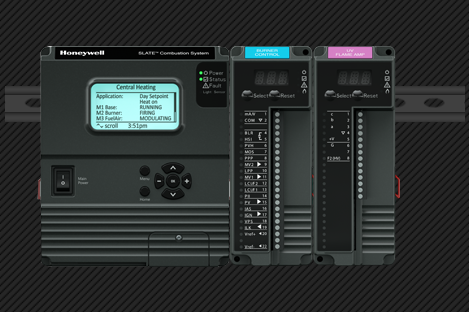 A single platform. For almost any application.
With the revolutionary integration of configurable safety and programmable logic, SLATE is easily customized for virtually any application in any industry. Universal I/O scheme lets you choose how to use each module, and the customizable touchscreen display allows you to easily change the end user experience. Global safety approvals and universal power supply (24 VAC/DC – 230 VAC) enable you to serve a broader, worldwide customer base with one platform.
Features
Integrated

Configurable safety and programmable logic in one, first-of-its-kind platform

Flexible

Adaptable for virtually any commercial or industrial combustion application

Modular

Buy only the modules you need and choose how to use them with simple wiring commands

Intuitive diagnostics

Simple, easy-to-understand messages enable real-time platform monitoring and more timely, informed decision-making.

Optimized energy efficiency

Integrated O2 trim and two VFD control additions on the fuel air ratio control module ensures exceptional accuracy while optimizing burner performance.

On-board system guides

On-screen system guides make it easy to find answers or troubleshoot in the field.

Status indicators

Technicians can quickly identify problems – no blinking lights, no fault codes, and no manuals.

Plug-and-play replacement

Individual modules can be easily removed and replaced without purchasing and reprogramming a whole new platform.

Easy data backup

Application kit and platform information can be downloaded and saved with a USB stick.
The SLATE Toolkit
Configure it, program it, build it, and make it yours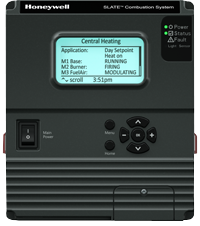 Base Unit
Includes power supply and communications

Burner Control Module
Flame safeguard module

UV Flame Amp Module
Flame amplifiers that respond to flame detector inputs to indicate the presence of flame

Fuel Air Ratio Control Module:
Features integrated O2 trim, two VFD control additions and up to four actuator channels

Safety Limit Module:
Enables you to set limits on pressure or temperature from any analog signal

Annunciator Module:
Provides status on first-out annunciation

Digital I/O Module:
Digital input and output module (24 VDC or 24 to 240 VAC)

Analog I/O Module:
Configurable analog module that supports voltage, current, PWM, tachometer, and thermocouples
Applications
Burner Control with two flame amps and limit
Burner control with dual flame sensors (similar or different technologies) for applications with independent sensors for pilot and main or strip burners requiring distinct sensing at different locations. Limit input can handle up to two safety, dual sensor system inputs or combination of a single dual sensor input and multiple analog I/Os. Limits can be configured to recycle and/or lock out either via contact or com bus. Multiple analog I/Os can handle a combination of at least 12 sensors, and/or analog I/Os programmable per wiresheet (logic). This single burner system is ideal for applications requiring a high level of I/Os. Modbus and BACnet enabled for interfacing with BMS.
Multiple burner controls with I/O
This multi-burner system is typical for a lead/lag or staging by equipment application. The analog capability enables lead/lag logic as well as basic boiler I/Os such as temp inputs, feedback loops, and throttling control. Modbus and BACnet enabled for interfacing with BMS.
Fuel air, burner with limit control
Single burner application with fuel air ratio control, multiple analog I/Os and limits. Limits can be configured to recycle and/or lock out either via contact or com bus. Geneva06Basic for dual fuel applications requiring low NOx, tight control of combustion mix with O2 trim and safety sensors and programmable logic. Controls throttling output and feedback loops.