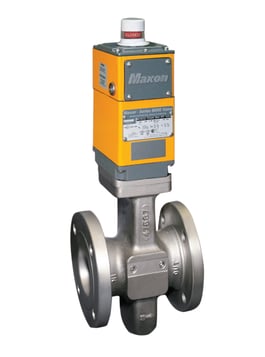 MAXON Series 8000 Valves are pneumatically actuated valves with a powerful closing spring and a large, top-mounted 360-degree open-shut visual position indicator. The Series 8000 can be ordered with a wide range of internal trim options to handle general purpose or corrosive gases and comes in a compact, space-saving design. The Series 8000 provides simple installation and low maintenance for trouble-free, long-term uninterruped operation.
Cast iron, carbon steel, low temperature carbon steel and stainless steel body assemblies in sizes from 3/4" to 8"
Hazardous Location approved: Intrinsically Safe and Non-Incendive constructions available
Factory Mutual, CSA, CE, IECex, INMETRO and KTL (KC mark) approved safety shut-off and vent valves
Full assessment to IEC 61508 as SIL 3 capable
Oxygen compatibility, NACE compliance, and fire safe conformance to API 6FA
Ambient temperature range of -58F (-50C) to 140F (60C) •
Gas temperature range of -58F (-50C) to 212F (100C)
Features & Benefits: •
MAXON Series 8000 Pneumatic Safety Shut-off Valves combine a unique space-saving design with a maintenance-free bonnet seal and a replaceable actuator for easy installation and smooth, trouble-free operation.

The valve's quick exhaust and powerful closing spring provide valve closure in less than one second and reliable, long-life operation.

Series 8000 Valve's compact design simplifies piping design and minimizes space requirements.

The field-replaceable actuator provides easier maintenance and reduced downtime. The actuator can also be rotated around the valve body in 90° increments to fit your specific application requirements.

A unique bonnet design eliminates packing adjustments for reduced maintenance and minimized drag on closing.

The large top-mounted open-shut indicator is visible from all angles for easy proof of valve position. SIL 3 capable design provides easy design for safety instrumented systems in the IEC 61508 and 61511 process. FM, CSA and CE approvals for use as a fuel safety shut-off valve making easy integration with worldwide certifications.

MAXON offers MAXON PSCheck partial stroke test technology designed especially for Series 8000 valves, to minimize probability of failure on demand by testing valve function without line shutdown. The combination of MAXON PSCheck and SIL 3 capable Series 8000 valves will help ensure safe, reliable operation of your process.