Beijer created the local panel configurable HMI in 1981 for Mitsubishi, ultimately inventing the industrial HMI category.


For the last 38 years Beijer has been evolving the HMI and has now entered the IoT market with the BoX2 server, Cloud VPN and several control system solutions.
History of Beijer HMIs
Cimrex
Beijer Cimrex was one of the first digital and graphical HMIs, supporting multiple PLC interface drivers. The Cimrex line included a large product range; starting with a two line text display, up to a large full color graphics touch screen. For those afraid of touch screens, back in the day, there were Keyboard available. We have grown to trust touch screen technology as it moved from early resistive touch to modern capacitive, multi gesture, capability.
Exter
Exter was the first high quality, cast aluminum bezel HMI by Beijer. It changed the look and feel of HMIs in industry for at least 15 years, a long life when it comes to technology. The reason that we preferred Exter over other HMIs, was because of the high build quality, rugged temperature and vibration performance, impressive software, and the number of device drivers Beijer had to work with. While many other companies had only 1-3 drivers available, Beijer had hundreds. This was a benefit to us because of the amount of work we did in compressors and process equipment packages.
Compressor building are hot, they vibrate, and are, ultimately, not a friendly environment for electronic equipment, like HMIs and PLCs. Most customers specifying compressor panels had a PLC they liked to use: like Allen Bradley, Modicon, or General Electric. We decided, as an engineering team, to make our HMI program universal, so that if we worked with any PLC specified we didn't have to constantly be re-programming the client facing HMI.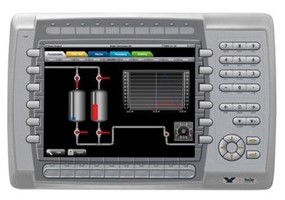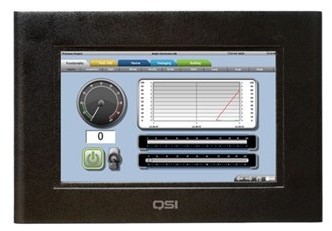 iX developer
In 2010 Beijer bought a company called QSI out of Salt Lake City. Prior to its acquisition, QSI was an HMI manufacturer that offered a very unique LCD touch screen that was rated to very low temperatures. Their software was powerful, but required a programmer with a PHD to integrate. To demonstrate the power of their software they created a fully functional "Space Invaders" game that ran on their 7" HMI (In case you always wondered what those operators do on the touch screen, now you know!).
After QSI was purchased, Beijer rebranded the "Rugged" HMI's, with integrated iX Developer software, and called the product Qterm-A7 and A12. These rugged products dominated the market for a while, as no other company had a product that, not only, had the wide range in temperature operation (-30° to 70° C) but also had a Class 1 Div 2 certification.
The legacy of the present HMI
Beijer offers a complete line of X2 Series HMIs ranging from the iX base 5 to the iX extreme 15. Beijer even offers iX runtime software for those who want to use the Beijer 32" marine touch screen PC. All HMIs use the powerful and easy to use iX developer software.
Webserver HMI
With the growth of IoT (Internet of Things) more and more companies are now developing products that serve up graphical environment straight to workers smart phones, tablets or computers, enabling them to remove site visits, unless they are required.
Beijer Cloud VPN
Beijer has released its new Cloud VPN device that bridges the gap between remote HMI, and remote worker, by providing easy access to the HMI graphics on a phone, tablet, or PC. In addition the Cloud VPN device provides the ability to present data from many remote devices in a centralized "cloud". With a dash board feel, the cloud includes real time and historical data displays and trends.
The Future of Virtual
The question now is:
What is going to happen with the industry? Are we going to use virtual HMIs, or will we still need physical HMIs in the field locations, in the future? Even some of our home stereo equipment no longer has a real HMI, we use our phones to control them.
Mica cannot answer this question BUT we can provide both solutions and find the right one to fit your needs.
Many customers are using the Beijer Cloud VPN to add IoT functionality to their HMIs and PLCs. Many edge controllers are now available with imbedded graphics system for use with tablets, mobile phones, and PC's.