Lift Station controls
Mica Controls has extensive knowledge and experience in migration traditional lift station controls to using a ScadaFlex II. Utilizing this technology lowers cost and includes all the basic needs in running a lift station (SCADA system, Data logger, radio system, cabinet, HMI, etc.) for 1/10th the price.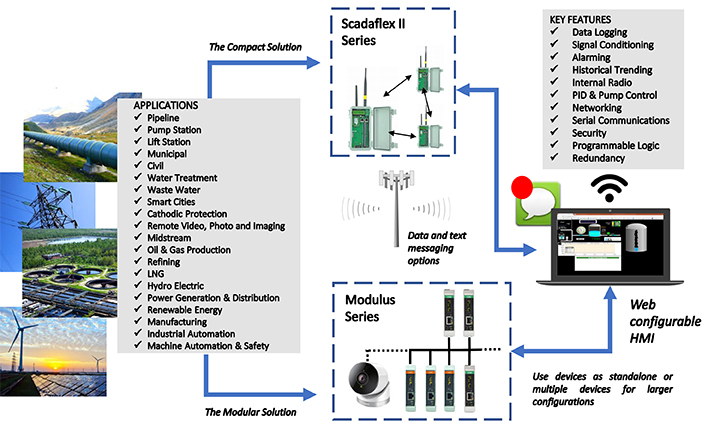 Our success with ScadaFlex
Mica has had great success with implementing the ScadaFlex in many solutions with some of the biggest success stories in small municipalities. Mica worked with a small municipality, that needed a SCADA system, to manage their waste water treatment plant, their lift stations, and their water reservoir. Mica installed a ScadaFlex II at the waste water treatement plant, making it the SCADA host. The graphical system for the waste water plant was implemented at that location, within the ScadaFlex II hardware, which was interfaced to the Rockwell PLC, that controlled the waste water plant, using an ethernet IP. That ScadaFlex II became the controller for four remote lift stations. These lift stations were controlled using ScadFlex RIO (wireless I/O boxes). The water reservoir utilized the ScadaFlex LPR (Low Power Remote) which enables the site to measure water levels and communicate with the SCADA host without the use of an outside power source. The client was most enthused by the cost decrease in running all these systems. Using a traditional approach to run this SCADA system would have cost this municipality hundreds of thousands of dollars: control panels, engineering, equipment, etc. Using this simpler solution, with a ScadaFlex, enabled Mica's client to spend only one tenth of what they originally would have had to budget for.
ScadaFlex II functionality
All of the features you would have to integrate into one location including level control, radio system, data logging, power backup system, call-out system, report generation, and graphical hosting is all in one package with the ScadaFlex II. It has built in control algorithms so there is no need to program from scratch, which eliminates the requirement of having an outside engineering integrator.
Features:
This installation come with no overhead in engineering or software integration.

The software is included. No Software purchase.

No long term maintenance or support costs.

IoT device, so all functionality is local to the hardware that is installed in the field

utilizes spread spectrum radio technology as well as 4G, 5G, LTE cellular communications.

integrated systems are no problem! ScadaFlex II has an imbedded advanced communications system that uses encrypted communications over the cellular network, Mesh Radio system or point to point network system.

The system is expandable and it can interface to your existing infrastructure. No need to replace everything.

ScadaFlex can be put in and added on to.

ScadaFlex comes in it's own enclosure.
Variable Frequency Drives
Beijer Frequency Inverters available in three grades. Available in multiple HPs. Check in with us for the one to best suit your needs.