X2 extreme rugged HMIs
Panel mount

Panel mount versions hold IP66, NEMA 4X/12 and UL Type 4X/12 ingress protection rating for the front and conform to ATEX Zone 2 and ATEX Zone 22 certification.

Fully sealed

Fully sealed versions with M12 connectors are IP66, NEMA 4X/12 rated with hazardous location and marine certifications.

Extreme temperatures

Extreme -30°C to +70°C operating temperature range guarantees trouble-free use in the harshest environments.

High vibration

Panels are tested to 4 g RMS sweep sine for vibration and 40 g 11 ms half sine for shock.
X2 extreme panels are certified by all major classification societies. Designed to perform in rugged outdoor environments and in hazardous areas where gases, vapors and dust are present. Extended environmental capabilities include operating temperatures from -30°C to +70°C, high vibrations and high-pressure wash-downs.
X2 extreme panels are available in 7, 12 and 15 inches, all in 3 versions: Panel mount standard and high-performance versions, and fully sealed high-performance versions. All high-performance versions offer high brightness display and optional integrated CODESYS PLC functionality.
X2 extreme furthermore offers cost-effective, rugged only versions (RO) for applications where no marine or hazardous certifications are needed, and certified only versions (CO) including marine or hazardous certifications for applications where no rugged capabilities are needed.
X2 extreme also include a number of web HMIs perfect for enterprises and users who wants to utilize HTML5 web technologies in industrial environments. The X2 web HMIs enable visualization of the same content across different target platforms such as mobile, tablet, pc, etc. without any conversion or re-engineering.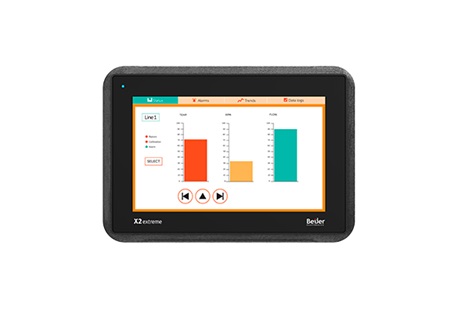 X2 extreme 7 / 7 12V
7'' Rugged HMI with iX runtime
800 × 480 pixel (16:9) TFT-LCD touch screen

1.5 GB application memory

Ethernet 1x100 Mbit

-30°C to +70°C operating temperature

DNV GL, KR, LR, ABS, CCS, BV, NK marine approvals

UL Class I Div 2, ATEX/IECEx Zone 2,22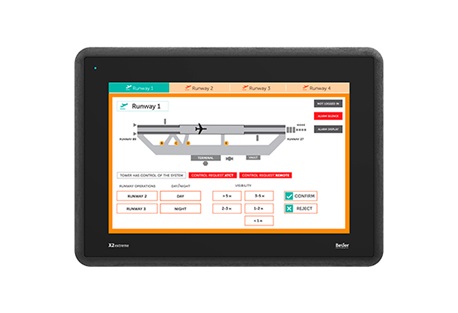 X2 extreme 12
12'' Rugged HMI with iX runtime
1280 × 800 pixel (16:10) TFT-LCD touch screen

1.5 GB application memory

Ethernet 1x100 Mbit

-30°C to +70°C operating temperature

DNV GL, KR, LR, ABS, CCS, BV, NK marine approvals

UL Class I Div 2, ATEX/IECEx Zone 2,22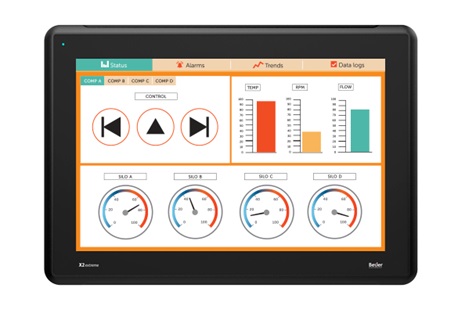 X2 extreme 15
15'' Rugged HMI with iX runtime
1280 × 800 pixel (16:10) TFT-LCD touch screen

1.5 GB application memory

Ethernet 1x100 Mbit

-30°C to +70°C operating temperature

DNV GL, KR, LR, ABS, CCS, BV, NK marine approvals

UL Class I Div 2, ATEX/IECEx Zone 2,22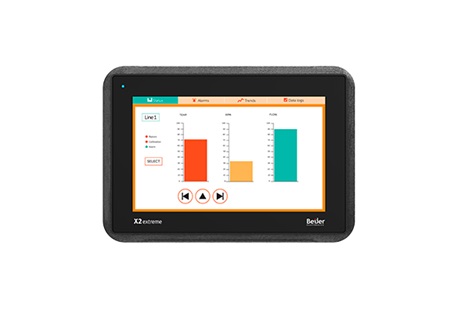 X2 extreme 7 HP
7'' Rugged HMI with iX runtime
800 × 480 pixel (16:9) TFT-LCD touch screen

High brightness display

3.5 GB application memory

Ethernet 2x100 Mbit

-30°C to +70°C operating temperature

DNV GL, KR, LR, ABS, CCS, BV, NK marine approvals

UL Class I Div 2, ATEX/IECEx Zone 2,22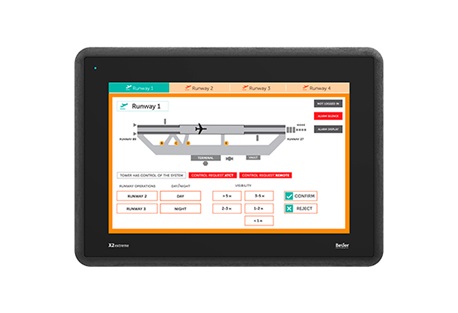 X2 extreme 12 HP
12'' Rugged HMI with iX runtime
1280 × 800 pixel (16:10)TFT-LCD touch screen

High brightness display

2 GB application memory

Ethernet 2x100 Mbit

-30°C to +70°C operating temperature

DNV GL, KR, LR, ABS, CCS, BV, NK marine approvals

UL Class I Div 2, ATEX/IECEx Zone 2,22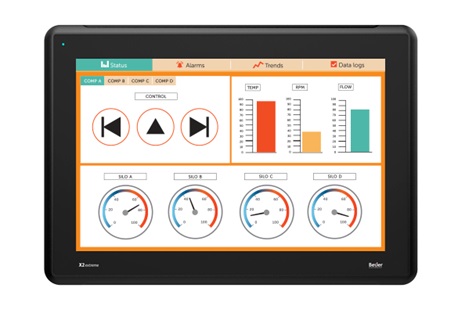 X2 extreme 15 HP
15'' Rugged HMI with iX runtime
1280 × 800 pixel (16:10) TFT-LCD touch screen

High Brightness display

3.5 GB application memory

Ethernet 2x100 Mbit

-30°C to +70°C operating temperature

DNV GL, KR, LR, ABS, CCS, BV, NK marine approvals

UL Class I Div 2, ATEX/IECEx Zone 2,22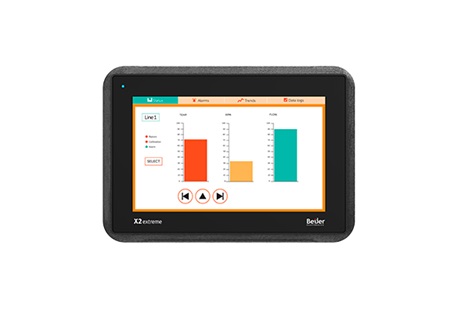 X2 extreme 7 HP SC
7'' Rugged HMI with iX runtime/CODESYS
800 × 480 pixel (16:9) TFT-LCD touch screen

High brightness display

CODESYS control integrated

3.5 GB application memory

Ethernet 2x100 Mbit

-30°C to +70°C operating temperature

DNV GL, KR, LR, ABS, CCS, BV, NK marine approvals

UL Class I Div 2, ATEX/IECEx Zone 2,22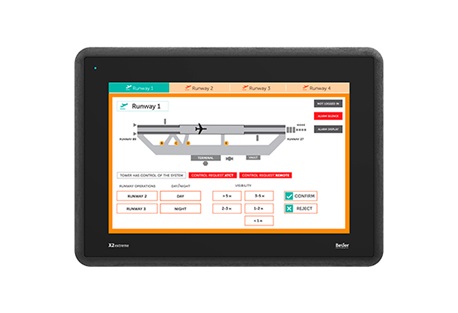 X2 extreme 12 HP SC
12'' Rugged HMI with iX runtime/CODESYS
1280 × 800 pixel (16:10) TFT-LCD touch screen

High brightness display

CODESYS control integrated

2 GB application memory

Ethernet 2x100 Mbit

-30°C to +70°C operating temperature

DNV GL, KR, LR, ABS, CCS, BV, NK marine approvals

UL Class I Div 2, ATEX/IECEx Zone 2,22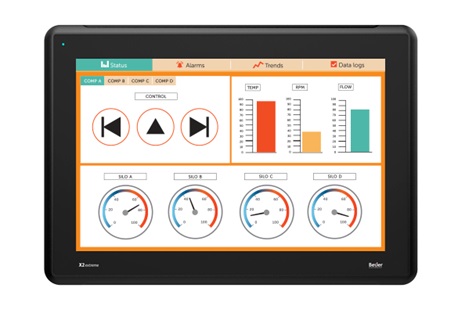 X2 extreme 15 HP SC
15'' Rugged HMI with iX runtime/CODESYS
1280 × 800 pixel (16:10) TFT-LCD touch screen

High Brightness display

CODESYS control integrated

3.5 GB application memory

Ethernet 2x100 Mbit

-30°C to +70°C operating temperature

DNV GL, KR, LR, ABS, CCS, BV, NK marine approvals

UL Class I Div 2, ATEX/IECEx Zone 2,22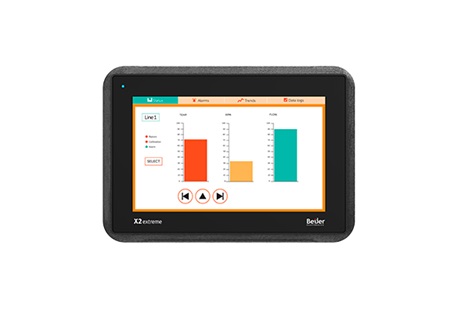 X2 extreme 7 SL HP
7'' Rugged HMI with iX runtime
800 × 480 pixel (16:9) TFT-LCD touch screen

High brightness display

M12 connectors - IP66

Ethernet 2x100 Mbit

-30°C to +70°C operating temperature

DNV GL, KR, LR, ABS, CCS, BV, NK marine approvals

UL Class I Div 2, ATEX/IECEx Zone 2,22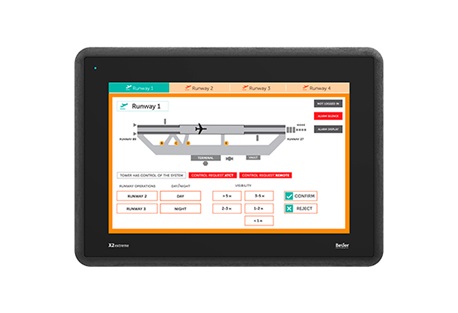 X2 extreme 12 SL HP
12'' Rugged HMI with iX runtime
1280 × 800 pixel (16:10) TFT-LCD touch screen

High brightness display

M12 connectors - IP66

Ethernet 2x100 Mbit

-30°C to +70°C operating temperature

DNV GL, KR, LR, ABS, CCS, BV, NK marine approvals

UL Class I Div 2, ATEX/IECEx Zone 2,22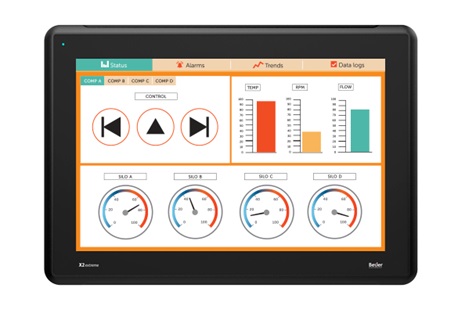 X2 extreme 15 SL HP
15'' Rugged HMI with iX runtime
1280 × 800 pixel (16:10) TFT-LCD touch screen

High Brightness display

M12 connectors - IP66

Ethernet 2x100 Mbit

-30°C to +70°C operating temperature

DNV GL, KR, LR, ABS, CCS, BV, NK marine approvals

UL Class I Div 2, ATEX/IECEx Zone 2,22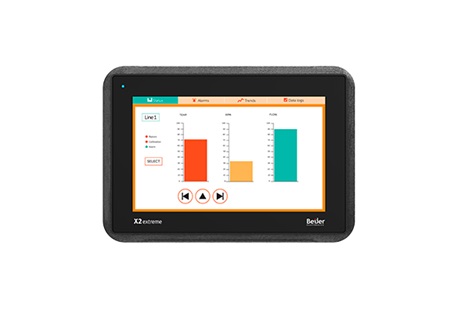 X2 extreme 7 SL HP SC
7'' Rugged HMI with iX runtime/CODESYS
800 × 480 pixel (16:9) TFT-LCD touch screen

High brightness display

CODESYS control integrated

M12 connectors - IP66

Ethernet 2x100 Mbit

-30°C to +70°C operating temperature

DNV GL, KR, LR, ABS, CCS, BV, NK marine approvals

UL Class I Div 2, ATEX/IECEx Zone 2,22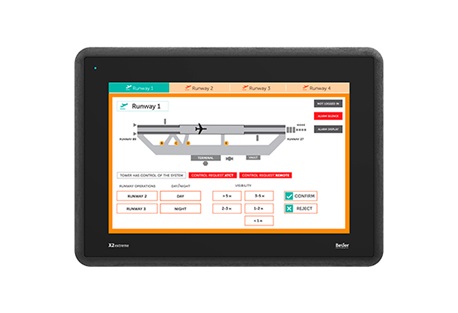 X2 extreme 12 SL HP SC
12'' Rugged HMI with iX runtime/CODESYS
1280 × 800 pixel (16:10) TFT-LCD touch screen

High brightness display

CODESYS control integrated

M12 connectors - IP66

Ethernet 2x100 Mbit

-30°C to +70°C operating temperature

DNV GL, KR, LR, ABS, CCS, BV, NK marine approvals

UL Class I Div 2, ATEX/IECEx Zone 2,22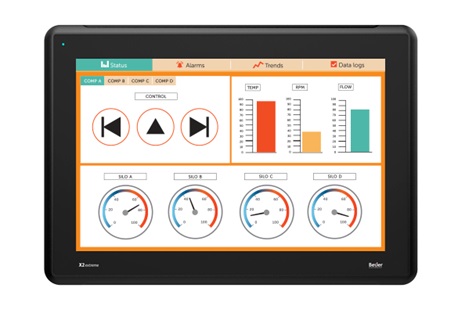 X2 extreme 15 SL HP SC
15'' Rugged HMI with iX runtime/CODESYS
1280 × 800 pixel (16:10)

TFT-LCD touch screen

High Brightness display

CODESYS control integrated

M12 connectors - IP66

Ethernet 2x100 Mbit

-30°C to +70°C operating temperature

DNV GL, KR, LR, ABS, CCS, BV, NK marine approvals

UL Class I Div 2, ATEX/IECEx Zone 2,22