Each ZEECO® ProFlame™ and ProFlame+™ model is easy to configure, simple to set up, and uniquely designed for safer operation in hazardous or nonhazardous areas.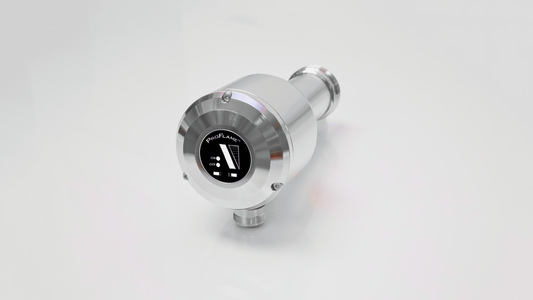 Advantages:
Compact, integrated, and reliable; no external flame amplifier needed
LED flame status indicators
Quick-connect adapters allow retrofit of any other major manufacturer's scanner
Vortex cooling jackets available for high-temperature environments
ProFlame
is designed for smaller applications and offers an adjustable flame relay pull-in time, service dipswitch, adjust dipswitch, and raw flame signal measuring pins for advanced troubleshooting and signal analysis.
ProFlame+
is designed for larger applications and has similar features to the ProFlame, with more intricate tuning to discriminate a target flame from a background flame, additional flame relay dropout time, separate flame-on and flame-off threshold settings for the frequency components of the flame signal, and a PC software interface.
ProFlame+ SRU Scanner
is specifically designed to provide reliable flame detection and superior background flame discrimination in SRUs. ProFlame+SRU converts electromagnetic radiation into a measurable thermoelectric quantity and corresponding thermal signature in accordance with established laws of physics.